view all
Photo Gallery Revolution 4 DS R4
R4 DS Review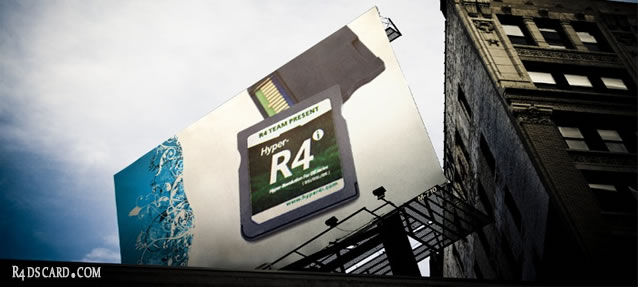 Hyper R4 DS R4i SDHC
Genuine R4 DS Revolution 4 DS from China!
R4i SDHC RTS (Real-Time Save) New menu
3DS Homebew Games and Apps. Revolution Roms R4 DS Games. History of the DS Slot-1 Flash Cards.
Buy R4 DS / R4i SDHC DSi Flash Cards »
Average Rating: 96.67%
Just recently bought my 5th R4i card (3 for me, two as gifts for friends) and what more can I say? I did have 3 DS Lites previously so I was an avid fan of the R4 anyway, then I had to update them when the kids upgraded. The cards work brilliantly and although there was an initial issue with the delivery (one of them was missing a Micro SDHC card which we'd ordered with them - v.quickly resolved with a quick e-mail), I couldn't be happier. When I have had to use the online help (which I did with the first R4s I bought) , they've been extremely efficient and certainly know their onions! A little tip - its also worthwhile signing up for their newsletters as there are some bargains to be had if you're thinking of repeat buying. Overall a brilliant company to deal with, with some fantastic products and prices! (Might check out that Cyclone player next!)

Rating:
5 of 5 Stars!
by Turner Choney
01/12/2009
I LOVE this product!! THE VERY BEST THING TO GET if you have a DS OR DSI i have them for 2 younger children and just got the dsi for my self. my children are 4 and 5 and they are easy enough for them to work them. they are great for in the car because its only one card and they dont have to ever take it out to change games meaning they are not going to lose them any where. i soooooo suggest this game card to everyone! a big thumbs up a great gift for anyone. the menu downloads are easy to download and right on the site making it very easy to set up. i just love it. I cant wait intell i get my dsi card in the mail :)

Rating:
5 of 5 Stars!
by rolene ruttan
23/10/2009
this is a realiable r4i version 1.4 card because this card update the firmware every month to work on new games all the time. it great i trust this site 1million pencentage.

Rating:
5 of 5 Stars!
by edward yuen
05/07/2010
Fantastic service. The products arrived swiftly and the after sales email on how to set it up was really good as we had been struggling to do this with a previous card bought from another supplier. Will definitely use you again

Rating:
5 of 5 Stars!
by Jeanette McHugh
05/07/2010
Tutti i prodotti finora aquistati,sono ottimi.ottimo è pure il servizio,Saluti Vito

Rating:
5 of 5 Stars!
by Vito Coppe
05/07/2010
I have used games backup for my R4 cards and have found the site to be 100 percent reliable. No issues ever with delivery or with Cards. Cards have also been 100 percent reliable and are fantastic value for money. No complaints what so ever !! Fantastic site and value . Keep up the good work !!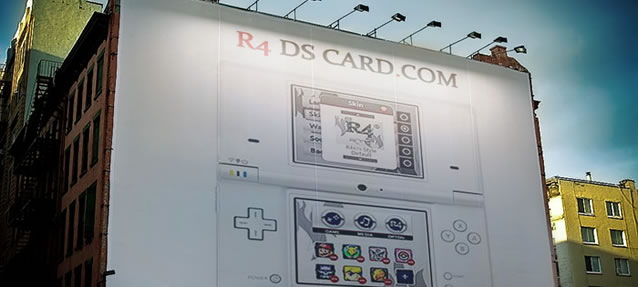 R4 RTS interface redesigned for ease of use and to facilitate the new features
R4i SDHC DSi featuring WiFi upgradable firmware and game downloads from R4 rom servers
R4i SDHC Package, Cart and USB to microSD card reader / writer
Rating:
5 of 5 Stars!
by LEONARD BENTLEY
03/03/2010
the product is great value and service is fast on delivery great web site easy to use .. thanks will use again

Rating:
5 of 5 Stars!
by Paul Tagg
02/03/2010
R4i Card is an excellent product to cut the cost of exhorbitant Nintendo games & so are the Memory Card supplied. I am giving a star less cause the advert does not specify which class is sold with R4i as previous i was quite satisfied to receive class4 but i understand 16Gb is Class2. But still definitely recommended product.

Rating:
4 of 5 Stars!
by Abdulkadir Parkar
19/02/2010
I am using 2 cards personally & adviced atleast 10 people. Everybody is happy to purchase for such great savings. Only disappointment was sometimes shipment was delayed and the other reason is the sale does not states the Class of memory sent, so some friends were lucky to have Class4 and some disappointed thats why i have given 4stars.

Rating:
4 of 5 Stars!
by Abdulkadir PARKAR
13/02/2010
yes I can understand why some people think these cards are not the genuine article...I bought a 16g sdhc for my fuji s100fs camera and it works a treat

Rating:
5 of 5 Stars!
by dave murray
12/02/2010
Have now purchased 4 R4i cards and 1 R4 card from here for my family and i have had no problems with any of the cards they all work perfectly. Therefore i recommend to anyone thinking of buying an R4 or R4i card to buy from here!!!

Rating:
5 of 5 Stars!
by gavin hill
29/01/2010
Delivered within the 2-4 working day window and works! Lol, it was my first shop here and after reading some reviews felt a bit unsure of my purchase. All is well though and I was able to use a supposedly out-of-date coupon. Instructions could of been better as none were supplied in the box and setup is required before you can use it in your DSi - maybe a step-by-step instruction guide or a link to a webpage? Overall I am pleased and will consider shopping here again.

Rating:
4 of 5 Stars!
by Robert McGovern
16/12/2009
I'm not sure if i should buy a r4i or not because I'm not sure if this site is real or fake. The comments seem to be fake, people don't put comments like that.

R4i SDHC Real-Time Save - create a quick savegame at any place in the game - restore to any spot...
Hyper R4i SDHC
Rating:
5 of 5 Stars!
by Mark Bailey
21/07/2010
The service was very prompt and the cards arrived very quickly. I will use you again and recommend to others. Prices were competetive with other internet suppliers.

Rating:
5 of 5 Stars!
by Maria Dane
21/07/2010
Awesome - i am really pleased with my r4i card and needless to say my son i over the moon - perfect quality and easy to order - cheers

Rating:
5 of 5 Stars!
by Nigel Orr
20/07/2010
This is the first time I have used Memorybits and have found that their delivery is spot on.I was one item short and sent them an e-mail and inturn I received a reply stating that the order is being processed again and is being sent.Even though they are half way around the world from me I would recommend them also for their honesty in completing my order.I have since ordered again and will do so in the future

Rating:
5 of 5 Stars!
by George Zerko
16/07/2010
i just ordered the r4ds card a couple of days and was surprised how quick i got it. I just tested and it work 100% fine. I would recommend anyone buying from this website. I am well happy about the time frame and the quality of the product. The price was cheaper than anywhere .

Rating:
5 of 5 Stars!
by mohammud baccus
15/07/2010
At last a dependable tool to use High capacity memory chips and work with the rev 1.4 block. No worry about clones here. This is the real thing.

Rating:
5 of 5 Stars!
by J. Wanalista
14/07/2010
Great product and have recomended to lots of friends... Great price, great offers.. would only use this site to buy this product..

Rating:
5 of 5 Stars!
by Nicola Samuel
14/07/2010
Super card works great with the downloaded software and what a great price.

Rating:
5 of 5 Stars!
by George Bestwick
13/07/2010
I have used this site a few times now and will continue to use again in the future.

Rating:
5 of 5 Stars!
by ADAM HOPKINS
08/07/2010
Products are very good, and the service is perfecty. Everything is wonderfull. I´m perfectly satisfied. Take care.

Rating:
5 of 5 Stars!
by Michael Wirsching
07/07/2010
I was introduced to the r4icard and 16GB memory card by my daughter. I found it to be an excellent buy. Not only can you transfer lots of games etc on to it but there is no longer any need to keep other games at hand, therfore making it less likely to loose them. Very pleased all round.

Rating:
5 of 5 Stars!
by Joyce Campbell
27/05/2010
Top product, excellent price and fab company. i have bought r4 and r4i cards from these guys and they are excellent. if you really want to open up the true potential of your DS or DSI then you need one of these products, if you only ever buy one thing for you NDS or NDSI then this is it. The r4i web site is cool too updated firmwares, instructions and top prices. what more can i say.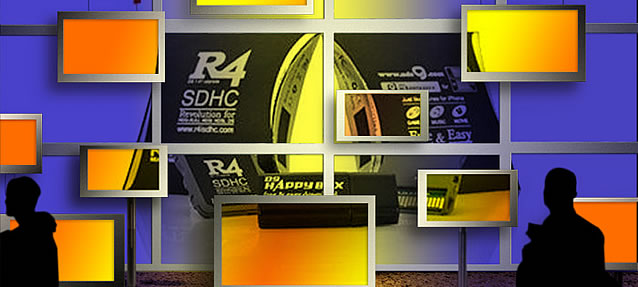 R4i SDHC RTS
R4i SDHC RTS New User Interface and revolution for NDS NDSL NDSi and 3DS
R4i Skins and Colors
Rating:
5 of 5 Stars!
by frank weir
07/12
Received my R4 card quickly....great accessory. There are loads of great apps available.

Rating:
5 of 5 Stars!
by Jonathan Marshall
06/12
My card was here within a week of ordering and when it arrived i was very impressed. It has everything i needed to start and was all properly packaged, and the micro sd fitted flush. I previously bought a card from a cheaper website and it failed to work because the micro sd did not fit flush, therefore i think this website is the real deal.

Rating:
5 of 5 Stars!
by Chris Lawrence
05/12
brill product well worth the money survice great .fast delivery will be using againe i can not saiy a bad word thanks.

Rating:
5 of 5 Stars!
by david robinson
04/12
I am very pleased with the product I received. I was a bit disappointed with the delivery, I ordered 3 R4 cards but only received 2 on the first delivery. I did subsequently receive the 3rd R4 card.

Rating:
4 of 5 Stars!
by Wendy Bolger
03/12
Great purchase, don't know how we ever managed with our old r4 card so much more options on this one. My son loves how he can personalize the menus etc to his taste ! Great site and very helpfull if have a problem. thnx :)

Rating:
5 of 5 Stars!
by carrie chance
03/12
I received my R4 DS card today, just a few days after ordering it. I followed the simple instructions on the website to install the software and it worked perfectly first time. I have shopped here before and certainly will again as the service is first class!!

Rating:
5 of 5 Stars!
by Charlotte Maxted
27/11
Fast service had loads of cards of them with no problem with instaling software


Rating:
5 of 5 Stars!
by Sebastian Romeo
05/06/2010
Fantastic product. Website to get the necessary software is clearly labelled on the box and setup is as simple as can be.

Rating:
5 of 5 Stars!
by Zakariya Patel
31/05/2010
Really easy to set up, Really easy to use, I would recommend this product to anyone 5/5

Rating:
5 of 5 Stars!
by andrew brown
29/11/2009
Purchased card for DS. Really quick service and the guides for installing the R4i card was really useful and easy to understand. Definately recommended and will use again.

Rating:
5 of 5 Stars!
by Heidi Boardman
28/11/2009
I have bought cards for dsi and ds and extreamly satisfied with these products they are a good thing to have.

Rating:
5 of 5 Stars!
by lesley box
28/11/2009
excellent service, fast and reliable, making my next order now! :) A++++++

Rating:
5 of 5 Stars!
by MATT WILSON
27/11/2009
Well packaged, good delivery time - the card is fab. A nice email followed my order with full links to setup instructions and the latest operating system software. Great price and well recommended. A Nolan.

Rating:
5 of 5 Stars!
by ALEC NOLAN
26/11/2009
great product, exactly what I wanted and quick, easy delivery.

Rating:
5 of 5 Stars!
by NARELLE WILSON
25/11/2009
The product arrived in good time and in good condition. However since buying the R4i card I have not been able to get it to work. I am not computer literate and have followed the instructions, but still to no avail. I think I may need some expert advice.

Rating:
5 of 5 Stars!
by Charles Lee
20/04/2010
My R4i card was working just fine for about three months and then it stopped working and I received an eror message. So I contacted R4i and they told me to return it as it was faulty. I did and today received my new card. I was so disappointed when I got a new error message : system date error. Please check NDS system date. However I went on R4i website and read a reveiw regarding the R4i Gold which stated that if you set the date to before 14th April 2010 it clears the error message and your free to play. Yeee ha back to my gaming!

R4i SDHC v2.0 in the News
Original R4 DS or Revolution 4 DS was the First and by far the best known SLOT-1 DS Rom Flash Card. Before it users had to use GBA Flash Cards + a PassMe card or install Custom Firmware on their DS to play NDS ROMs, but R4DS changed all that with a simple way of bypassing copy protection on the NDS and playing NDS game backups straight from a low cost micro SD card in a R4 adapter. (before that Flash Cards came with built in Flash Memory that was way more expensive than regular consumer microSD cards). R4 got so popular that even NINTENDO started calling all DS Flash Cards R4 Cards. Eventually this popularity led to the R4 Teams demise - dissolving and stopping support for the Original R4 - BUT and it is a big but - this left a vacuum that was filled by hundreds of copies / clone R4 cards and even more copies of DSTT and AceKard Flash Cards that came rebranded with the R4 in the title. R4 II / R4 Gold / R4 Upgrade / R4 Hyper / R4 3DS etc. I could go on but you get the idea.
R4i Revolution 4 DS Roms - Flash Card History at GBAnet. Review of the R4i DSi. Nintedo DSi XL Compatible.