view all
Photo Gallery Revolution 4 DS R4
R4 DS Review
Genuine R4 DS Revolution 4 DS from China!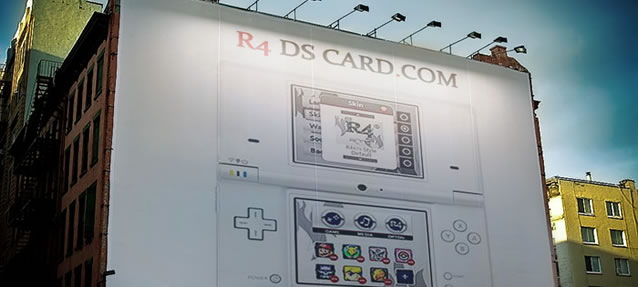 R4 RTS interface redesigned for ease of use and to facilitate the new features
Buy R4DS and other Nintendo DS / DSi Flash Cards »
Rating:
4 of 5 Stars!
by Petra Norris
17/06
After a bit of a delay in the delivery, although to be fair this may have been down to Royal Mail, I had couldn't get the R4 DS to work with the software downloaded from the R4site. After downloading alternative software from the official R4i site it worked perfectly so there maybe a problem with the software on the R4site. I have used the M3DS Real previously with Sakura software loaded and I think that has the edge over the R4 but not enough to pay the extra for. Great price would certainly use your store again.

Rating:
4 of 5 Stars!
by Dennis Harrington
12/06
R4 I have now had 4 of these cards and recommended them to many friends. I started with the standard R4 card (2gb) but moved up to the R4 sdhc card, its great it does exactly what i need. I have never tried any of the other cards and have no intentions too, the R4 card is all you need for your DS!!!! Ony one minus point and this could be me, the software does not work with RAR files, this is not a problem but i thought i would mention it.

Rating:
4 of 5 Stars!
by Greg Beal
10/06
The R4 cards for the Ds are great for putting stuff on to play or watch on your DS. The service was great and the goods were received well within an expected time frame, no dramas would recommend your service to freinds and family. regards M Evans
R4i SDHC DSi featuring WiFi upgradable firmware and game downloads from R4 rom servers
Nintendo DSi Hacks and Mods - Review DSi R4i SDHC and download games for R4i SDHC at nds-roms.us
R4 DSTWO microSD
Rating:
5 of 5 Stars!
by Felice Reali
21/11
These cards are superb - i have ordered many of them from here and get excellent service everytime. They are so easy to set up and easy to use, no messing on with other products, just pop it in and away you go.. excellent value for money

Rating:
5 of 5 Stars!
by STEVEN BATES
20/11
so easy to use brilliant peace of kit i love it countless games on one card no more hunting around excellent price for what it does


R4i SDHC Real-Time Save - create a quick savegame at any place in the game - restore to any spot...
Hyper R4 SDHC RTS New User Interface and revolution for NDS NDSL NDSi and 3DS
Original R4DS evolved into R4SDHC and R4RTS
Rating:
5 of 5 Stars!
by sophie steyert
17/11
Excellent service and quality product. An asset to the industry.

Rating:
5 of 5 Stars!
by Andrew Maher
17/11
Absolutely briliant very simple to use. Highly recommended.

Rating:
5 of 5 Stars!
by Steven Herbert
17/11
Excellent product and service. I cant believe the muppets on here cant simply download and transfer the operating software from the nominated website printed on the box. 2GB cards work just fine, will hold 20 ish games, altough it states it can handle up to 32GB??

Rating:
5 of 5 Stars!
by simon jones
18/06
I have bought this product but when trying to use it just would not work. SD card is fine cos I tryed it on other NDS. Could you please tell me if I am doing anything wrong? I had no CD with it. Do I need to install drive? How do I do it?
Original R4 DS or Revolution 4 DS was the First and by far the best known SLOT-1 DS Rom Flash Card. Before it users had to use GBA Flash Cards + a PassMe card or install Custom Firmware on their DS to play NDS ROMs, but R4DS changed all that with a simple way of bypassing copy protection on the NDS and playing NDS game backups straight from a low cost micro SD card in a R4 adapter. (before that Flash Cards came with built in Flash Memory that was way more expensive than regular consumer microSD cards). R4 got so popular that even NINTENDO started calling all DS Flash Cards R4 Cards. Eventually this popularity led to the R4 Teams demise - dissolving and stopping support for the Original R4 - BUT and it is a big but - this left a vacuum that was filled by hundreds of copies / clone R4 cards and even more copies of DSTT and AceKard Flash Cards that came rebranded with the R4 in the title. R4 II / R4 Gold / R4 Upgrade / R4 Hyper / R4 3DS etc. I could go on but you get the idea.
R4 DS Review - Flash Card History at GBAnet. R4 ROMs also known as R4 DS Games. DS Flash microSD Cards. GBAnet R4 DS Review.